Basement Renovation review in Mississauga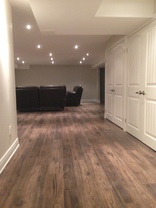 Royal Basements Inc.
416-230-9010
96 Beavervalley Dr.
Brampton
ON
L7A 3R3
CANADA
Thank you! Rene and Juan Carlos, you have brought light and made our basement feel very welcoming. Our basement needed to be demolished and all electrical including the main box replaced. Rene was prompt on arrival on the first visit. He spoke softly and gave us advice on what was possible and timeline. He gave us a written contract and we followed with many questions, but he always explained with advice that would save money and still give us good results. There were many revisions to the contract, because he highlighted points that woke us up to other possibilities that could further enhance the basement.
Rene, Juan and their team arrived promptly on the start date, and they stayed true to their work schedule until the basement was completed. They were very clean. All the demolished walls were taken away on the same day, so there was no big garbage bin in our driveway. We were very PLEASED...Thank you for keeping the PROCESS CLEAN!
We chose to install a very dark floor, and Rene stained the new stairs to match the floor colour perfectly.
Rene needed to travel for Christmas, so he, Juan and Alex came and layed the flooring on a Saturday. This meant we could use the space if needed. They resumed work as promised on January 4th. Juan worked tirelessly to paint the space beautifully... this included the laundry room floor. We were surprised to see that Juan even painted the floor behind the heating unit. Great Job!!!
Rene and Juan Carlos exceeded our expectations. They also arranged for all inspections and gave us the proper documents to show approval of the work. We will certainly have these gentlemen do more renovations in our home again. BRAVO!
Cheers!!
Belinda
Company Response

Thank you very much to hear from client like you such nice experience work in your basement.
hope you can enjoy it.