Moving & Storage review in Toronto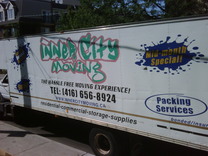 Inner City Moving
416-656-8924
548 Northcliffe Blvd.
Toronto
ON
M6E 3L7
CANADA
These guys said they would take credit cards and when we reached my new place, they forced me to pay cash or else they would not unload my furniture. Completely unprofessional, and a company not to be trusted. They were over 2 hours late, broke several items and while they tried to come to fix some of the items, they still remain broken. Stay away and save yourself the pain.
Company Response

InnerCity Moving and Storage strives to provide excellent service and when things go wrong, we aim to quickly investigate and rectify any difficulties. We are sorry that this customer feels that we underperformed.

A part from a scuffed wall, the result of an over-sized couch going through a small doorway the move went well. A repair person was sent two times to smooth over the wall. The job was completed and the customer was satisfied with the repair job. There is no mention of other damage or any other mishaps.

The customer opted for our five percent discount for cash payments deal. Moving arrangements are all confirmed by email, including moving dates, start times, payments and payment method. Its all draft in the email, we cannot change or force our customers otherwise.

This customer never contacted our office by email or verbal about other damages but the scuffed wall, which was promptly and satisfactorily repaired. We work very hard and at the end of the day, a smile and a thank you means more to us than a tip.