Tile & Stone Contractors review in Whitby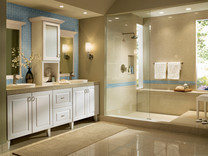 Cera Stone Ltd
1-877-501-2372
4 Abacus Rd, Unit #10
Brampton
ON
L6T 5B7
CANADA
I hired Cera Stone to install ceramic tile
Throughout the first floor of my home. Over a 7 day work period I met a variety of great hard working people.
The job was tough because they had to
Remove 20 year old terra cotta tiles. From the removal of the old tile to the installation of the new tile the guys who were working in my home were great.

Everyone was punctual, professional and Fantastic!!!
I would hire this company again without hesitation.
1 of 1 people found this review helpful.