Heating & Air Conditioning review in Edmonton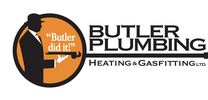 Butler Plumbing Heating & Gasfitting Ltd
780-432-3947
4260 93 St NW
Edmonton
AB
T6E 5P5
CANADA
Too much to add in the subject line, so here's what we had done:
- Pipe new 3/4" gas up to range (includes permit)
- Add new 8" combustion air for boiler and hot water tank.
- Add new 8" fresh air into R/A duct including electric damper and 240V 5kw duct heater.
-Install range exhaust fan with new pipe out the roof.
- Remove old exhaust fan
- Supply and install new 110 cfm bathroom exhaust fan.
- Connect to existing piping and electrical
------------------------------
For our kitchen renovation, we decided to switch from a (50 year old) electric to a gas stove. After picking out a stove and appropriate range hood, I contacted Butler Plumbing to give us a quote on running a gas line to the kitchen installing the range hood, and putting in a new bathroom fan. This was our third time contracting Butler, so we were confident that we were getting the right people for the job.
Kevin came out, had a look around and informed me that due to the powerful fan in the range hood (600 CFM), we would need a make up air system to replace the large volume being removed by the fan.
I had assumed you quickly run a gas line, slap a range hood over the stove and you're good to go. Nope, not even close.
For the uninitiated (which included me) a make up air system is necessary in order to avoid negative air pressure in the home, the build of of carbon dioxide created by the burning natural gas and to draw fresh air in from the outside. Or something. Not one to ignore the advice of a professional, we of course gave the go-ahead.
Bryce came and had the system ready for the electricians from Robart Electrical (another GREAT Edmonton business) in 3 days. This guy worked his tail off and I can't say enough good things about the quality of the Journeymen that Butler Plumbing have sent to our home. They call you when they are on the way, clean up after themselves, answer any questions that you may have and always pull permits when required.
There were a couple of small hiccups getting the system 100% operational, but after conferring with Bryce and Kevin, the electricians got it done quickly. I really, really do appreciate the fact that Butler took the time to share their knowledge of the system in order to give the electricians the information that they needed to get things working as they should. That's why you hire professionals, people.
Company Response

Peter, Your reviews are fantastic and very helpful to other customers looking to hire contractors. Enjoy the new gas range and good meals that will come from it. Thanks again.