Windows & Doors Installation & Service review in Toronto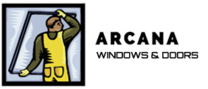 Arcana Windows & Doors Ltd
(905) 526-8544
I would highly recommend Dimitry and his crew from Arcana window install.
Nothing but good things to say about the process from getting his quote right through to the final install process.
The guys did a top notch install, nice and square, level, we checked after the install job. They cleaned up inside and outside and did a great job.
If you are looking for a quality job, don't hesitate to use Arcana, thanks guys great job.
Jeff and Julie.
Company Response

Thank you Jeff & Julie for taking the time to review. We installed all the front windows in their beautiful Etobicoke home. Casement windows with SDL's (simulated divide lites - grills that simulate individual panes of glass). Thank you for the business.