Windows & Doors Installation & Service review in Hamilton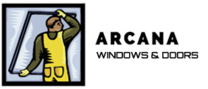 Arcana Windows & Doors Ltd
(905) 526-8544
We were very happy with Arcana from beginning to end. Dmitry was responsive, patient, and very easy to work with.
The work crew were efficient and hard-working - got the job done in only 1.5 days.
We're very pleased with the end product.
Company Response

Thanks Tony and Sarah. We replaced all the windows and 2 doors in this century home. For the exterior they chose a dark grey colour called IRON ORE, and for inside to complement their beautifully stained old wooden trim, we painted the windows COMMERCIAL BROWN with upgraded BRONZE hardware and screens. This gave their home a contemporary feel while respecting the existing, classic style.
Often in these older homes if the trim is already painted WHITE, there is no need to paint the inside of the new replacement windows. But in a case like this, where the stained trim is preserved, I recommend upgrading to the painted windows and upgraded hardware, to avoid the stark contrast between the stained wood and WHITE vinyl.
Thank you for the business.