Insulation review in Toronto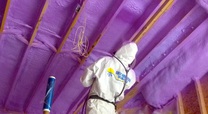 Great Northern Insulation
800-265-1914
Recently topped up my attic with blown in fiber glass insulation. The sales person was patient, answered all my questions and I thought I got a reasonable quote for the job of adding baffles and insulation, and the work was scheduled soon after.
Two guys came in, on time, covered the floor area, did the job nicely; everything appeared professional and well done, I thought. Over the next weekend I crawled in to inspect my newly insulated attic. Only then I realized they just added baffles and covered the attic with insulation. A very basic blown-in insulation task is to block the rafter area where the baffles are inserted so that loose insulation won't fall out and cover the soffit vents. Without it, airflow to attic would be blocked, moisture cannot get out, and very soon the attic will be likely get moldy.
I called them explaining my findings; again the staff was very nice and sent the guys to take care of my issue. They did not make me wait long, guys came and put blockers where they had put in baffles.
I still think they should have blocked all rafter spaces where attic-wall meets the roof. Without it, I still see the possibility of blown-in loose fill falling and covering the soffit vents. From what I know, this has to be the basics of insulation.
I think company overall is professional, customer focused and intent to do a good job, but staff in my case were definitely under trained. This is a difficult area for home owner's inspection and you are rely on 'professionals', but I don't think that was done in my case.
1 of 1 people found this review helpful.