Insulation review in Hamilton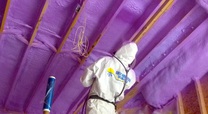 Great Northern Insulation
800-265-1914
The sales rep Bill was very professional and knowledgeable. Henry and Dave arrived at the scheduled time and were very professional in explaining to me exactly what they were going to do. They also answered all my questions as they proceeded through the process of increasing the level of insulation in the attic. Contrary to what I expected they were very neat and tidy. Nothing for me to clean up.
When they had finished the job I mentioned to Dave that i was going to have the existing soffits removed and new ventilation holes installed. He told me it wasn't necessary because they had uncovered them during this process and all was good. An instant savings of a couple of thousand dollars.
Very, very satisfied with GNI and Henry and Dave especially!