Tree Service review in Toronto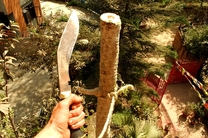 Heritage Tree Care
416-458-4745
1490 King Street West
Toronto
ON
M6K 1J3
CANADA
Thanks to Joe, my apple tree now looks amazing! The tree was starting to overshadow the rest of the garden but the guys shaped and trimmed it so that it now has great form and is an attractive feature once again.
Joe's response to my request for both the quote, and then later for the work to be done was prompt and timely, and the clear up was fast and efficient. I highly recommend their work!
1 of 1 people found this review helpful.
Company Response

Hi Nuan.
Thanks massively for the lovely review indeed.. I'm only sorry it took so long to acknowledge it!. call me next year for some lite corrective pruning.
All the best Joe the arborist