Calgary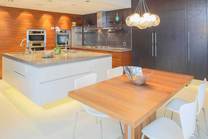 Denca Cabinets
403-252-5552
555 60 Avenue SE
Calgary
AB
T2H 0R1
CANADA
A couple of months ago I visited Denca to discuss changing my kitchen countertop with Rosita, one of the sales designers. It was during our conversation that Rosita suggested that replacing my laminate countertop with a stone countertop was probably not my best move if I didn't intend to do a renovation that also included cabinetry at the same time. Her advice made complete sense and caused me to shelve the idea and opt for a countertop resurface from another company.
While a major function of Rosita's job is sales, she chose not to try and sell me a stone countertop. She was the only person whom I spoke to about changing my countertop who instead of giving me an estimate, recommended that I step back and take a broader view of the subject—to see the countertop in relation to the entire kitchen and not just as a single upgrade.
For people involved in sales, saying no to a potential sale is not always the easiest thing to do. Rosita clearly put my interests front and centre and for that I am extremely appreciative and most grateful.
As someone who really appreciates excellent customer service, I will make Denca my first stop when the time comes to give my kitchen a full makeover.
I should also add that I was turned onto Denca after having seen a Denca-designed and crafted kitchen that was absolutely stunning at an open house. The agent herself was so impressed with the kitchen's beauty that she even cited in her advertising about the home that the kitchen reno was by Denca.
Company Response

Hi and thank you for your review! Our sales designers are committed to ensuring that any sale would provide you with a substantial return on your investment with us. We are very happy to hear that Rosita was able to direct you in the right direction. We look forward to working with you on your future makeover.
Dominic & Heidi Boudreault-and the denca team