Chimney Build & Repair review in Toronto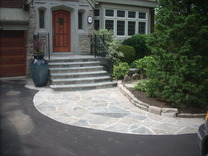 Otto's Masonry
(416) 467 1717
10 Canvarco Road, Unit 67A
Toronto
ON
M4G
CANADA
I made the mistake of letting a crew of misfits driving around in a pickup fixing chimneys remove the loose bricks on my chimney and parge it (which apparently is illegal). Consequently each passing winter water got in, froze, expanded and loosened more brick to the point where chunks were falling on my gas fireplace during windy days in spring.
Otto's crew did the following:
- Break down 14 courses of brick
- Rebuild chimney matching bricks and mortar as close as possible
to the original
- Install a new chimney cap and new flues
- Reinstall original metal cages
They worked quietly, efficiently and were done in less than two days.
My chimney looks amazing and will no doubt restore some value to my house. I would recommend these guys for good, prompt communication and getting the job done right.
Company Response

Thanks Ray!!