Heating & Air Conditioning review in Mississauga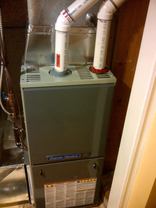 AirHeatingPlus, Ltd.
416-889-6344
Mississauga L4Y 3G2
Mississauga
ON
L4Y 3G2
CANADA
They are the best. I called Renato took the call in the morning. He was heading out for the days work but he came over to check out my AC.
It need to be replaced, he gave me a Sunday morning to replace the AC which was great, as others were saying 4 to 10 days. He called me again later in the day and said he might be able to do it the same day at 6 pm. he called me again and said he would be there at 4:30.
They were great did all the work in about 2 1/2 hours. cleaned up nicely and the work is the best I have seen nice and clean. Others have worked on the AC before and tape and silicon all over the place.
These guys are the ones to call if you want to see how the pros do it.
The price was great, Will use them again and will recommend them to anyone that needs AC/Heating work.
Thanks again Renato enjoying a cool house again.
Company Response

Thank you again enyoy