Heating & Air Conditioning review in Mississauga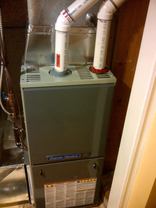 AirHeatingPlus, Ltd.
416-889-6344
Mississauga L4Y 3G2
Mississauga
ON
L4Y 3G2
CANADA
Renato is a true professional who knows what he does and most importantly, understands the urgency of the situation. I knew he was getting my business the moment I spoke to him.
Our furnace stopped working all of a sudden on Friday night. He knew exactly what the problem was when I called him on Saturday and the part that would be required to fix the problem. The problem was that the vent motor of the furnace was not moving freely and was preventing the furnace from starting up.
I had called at least 3 other "Best of 2016" HVAC contractors from HomeStars but none of them showed any urgency or clarity of thought in diagnosing the problem. It was like they were doing you a favor by answering your call.
Renato, on the other hand, was quick and direct. He told me that he could only acquire the part by Monday morning as it was the weekend and the stores were closed. Fortunately, temperatures outside were not bad and we could do without a furnace for a day or two.
However, he managed to procure the part the next morning and came to fix the furnace right away! Not only did he come earlier than he promised, he also gave us valuable tips on how to maintain the furnace. He did not have to, but he went out of his way to clean the flame sensor of the furnace to avoid any problems in the future and helped us fire up our fireplace.
I will definitely go with him for any of our future furnace/ air conditioning needs and will recommend him to all my friends and family members. He really does care about saving your money. It is hard to find people like him these days.
1 of 1 people found this review helpful.
Company Response

THANK YOU VERY MUCH SIR CUSTUMER LIKE YOU IS OUR PRIORITY.thanks Renato