Kitchen Planning & Renovation review in Brampton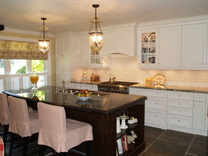 Clareville Distinctive Kitchens
905-494-0894
253 Summerlea Road
Brampton
ON
L6T 5A8
CANADA
Our small outdated inefficient kitchen now has so much more available counter and storage space. The layout and colour scheme is exactly the way my wife and I imagined it. With all the new LED ceiling and under cabinet lighting we can have the work areas as bright as we need them. Luke and his team have gone above and beyond in working with us to design and build our perfect kitchen.
Claireville's team were both the builders as well as the installers. They knew exactly what to do when working with surfaces that are not completely straight or level. There were virtually no delays. At the end of each day, the area was cleaned and made ready for the next day's work.
The team was always friendly and personable and they made sure to answer any questions that I had about any phase of the work.
Thanks again Luke, Daniel and everyone else for such excellent work.
1 of 2 people found this review helpful.
Company Response

Mr. Weytze, thank you for the time and effort you spent to offer your valuable opinion. CLAREVILLE DISTINCTIVE KITCHENS & BATHS has always been dedicated to improving the quality of the natural and built environments, while we believe in providing everlasting quality with every project for the benefit of the sophisticated audience of today, and future generations. We are glad to have earned your trust in our service, and feel privileged to have been allowed into your home.

Sincerely,
Luke Psarianos
President/Founder
Clareville Distinctive Kitchens & Baths.
www.clarevillekitchens.ca