Basement Renovation review in Toronto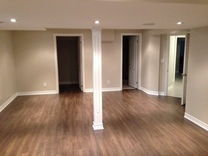 Sonoma Contracting
416-451-4499
49 Belwood Blvd
Vaughan
ON
L4K
CANADA
Our original contractor informed us about 2 weeks before our basement was about to start that he would not be available so we were in a bind. Someone we trusted recommended Mike and Aldo. We were not disappointed. From the very first meeting we were impressed. I naturally ask a lot of questions and never once did I feel like I was bothering anyone. All of my questions (stupid or otherwise) were answered in a way that never made me feel like a big dumb dumb.
We hired Mike to come in immediately after the the underpinning was complete. We required all the framing, a new bathroom, all electrical, all above grade plumbing, including sump pump and sewage ejector, a new set of stairs, a laundry room, flooring, painting and windows.
Everyone who came to the house was amazing , and did their best to give us what we asked for, even when I changed my mind 5 minutes before they started. When things did not go as planned I was never kept in the dark. Mike and I had constant communication through out the whole job.
Most importantly I think, was how any mistakes were handled. In a job the size of ours their is bound to be a few things go not as planned. One time was a broken tile, another was a miscommunication on what trim was to be put around a window, the last was again a miscommunication about the size of one window. I was treated more than fairly on all three incidents and none of them were an issue after they were repaired.
Lastly, we are currently having an issue with one of the doors installed (6 months later) and Mike did not hesitate sending someone to check it out. This is proof that the service before, during, and after was all excellent.
We enjoy our new basement everyday, and would have no issues recommending Sonoma to anyone.