Floor Laying & Refinishing review in Toronto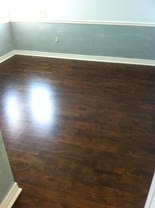 NewRidge Refinishing Group
416-273-4771
This is our 2nd time using NewRidge, Matt is absolutely awesome!!
Matt is exceptionally talented when it comes to fixing and refinishing hardwood floors. Finding a missing wall that left a hole in the floor after the carpet had been removed didn't faze Matt at all, looks like it was never there to begin with. His attention to detail is phenomenal; he added door trim in places we forgot about. He left our home immaculate after each day, allowing us to get some painting done in the eve.
This is a company when you find them you keep their business card for life. They are that good!!!
Thanks so much for your hard work Matt, the floors look beautiful, what an incredible job!!
Company Response

Thank you once again Brenda for choosing our services and a big thank you for taking the time to prepare a detailed review of your experience. It was a pleasure for both Matt and I to work with you on this project. Please keep us in mind for a future hardwood flooring and/or stair case refinishing / installation project.
Warmest Regards,
Scott