Insulation review in Hamilton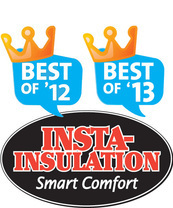 Insta Insulation
1-800-668-0311
GTA 416-368-8810
ON
Brantford 751-2522
CANADA
We have a side split house that needed both attics updated with more insulation. We picked insta insulation based on the reviews here. The guys that came were pleasant and efficient, taking less time than I was told it would take. However it could have been a better experience.
The house was getting a full of insulation dust everywhere. I pointed this out and was told don't worry as they still had to vacuum and clean up. They should have taped off the small hallway to prevent the spread of dust. Cleanup was pathetic with only a quick vacuum of limited area. Dust and insulation on floors chairs etc left as is. They also did not bother to slide the screen back in the window they used to bring the hose in. They left the back gate propped open instead of closing it.
This company demands 40% payment up front. When the guys asked us to pay, it was for the full amount. Happens all the time they said and not their problem. Had to phone the office myself to get it cleared up. Excuse from billing staff was their system couldn't handle the deposit??? Very unprofessional in my opinion.
Because of these complaints, the do not deserve a better review.
Company Response

Hello Ken,

It was a pleasure speaking with you this week to better understand and address the concerns that you brought forward here in your review. We certainly appreciate your candid feedback and my only wish is that we could have had the opportunity to address these challenges with your experience sooner. I was very disappointed to learn that our install team did not deliver as expected with their cleanup, or in assisting you with resolving your challenge with payment. We certainly take ownership for the fact that we need to set our crew members up for success in properly working with customers to handle challenges as they arise, and your experience indicates that we have some work to do with our ongoing training. There is no excuse for excuses - we all need to work together to deliver on our customer promise to perform the project right the first time.

On behalf of the whole team at Insta-Insulation, we want to be certain that you know we appreciate your business and we apologize that we did not deliver the 5-star performance that you have read about on Homestars, and that you deserve. I hope that you feel our conversation resolved your concerns to the best of our ability, after the fact. It is very important to us that we leave things on as positive a note as possible.

Ken, thank you again for taking the time to speak with me and for bringing your concerns forward. Understanding where we mess up is the only way we learn how to get better. We do remain confident that you made an excellent decision to invest in properly insulating your home and we hope you and your family enjoy the ongoing benefits you're sure to experience from your newly insulated attic.

Sincerely, Crystal - Customer Care