Fire & Water Damage Restoration review in Toronto
Assisted Review
An assisted review is collected by a contractor on behalf of the homeowner after their work is completed. The homeowner must confirm the text of the review and may make any changes she or he deems appropriate. The homeowner then assigns the contractor a review score out of 10. Assisted reviews receive the same scrutiny as other reviews and must follow our review guidelines.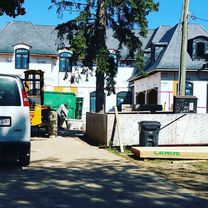 Hot Wire Electric
416-553-5533
60 basaltic road
Vaughan
ON
L4K
CANADA
A branch fell during the storm and broke my upper mast and brought down the wire to my house. I called Hotwire and had them schedule me in. I had another quote for literally double Hotwire's quote and they weren't going to coordinate with Toronto Hydro. Hotwire was fairly priced and with great service attitude and their office communication was top notch. They asked for pictures via email and quoted immediately using those. The scheduling, invoicing and paperwork was all electronic / efficient. The crew was great; professional and courteous and I was only out of power for an hour or so.
1 of 1 people found this review helpful.
Company Response

Dear Chantel - thank you for trusting in our company and expertise to correct your electrical system and meet your needs. We thank you!
Hanna