Pest & Animal Control review in Surrey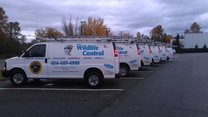 Aaa Wildlife Control
604-685-6888
I was hearing noises in the attic then saw a raccoon climbing up onto the roof. The noises in the attic were quite loud, it sounded like a big cat running around up there.
They were very fast, responded the same day and were actually at my home within a few hours of speaking on the phone. They did not use traps. They fully inspected the roof and attic, and showed us how the raccoon was getting in and the evidence in the attic. They looked for a nest of babies but said there were none so that was good news. They sealed up three spots where it might get in, and put a one-way "door" made out of wire mesh on the bigger hole where the raccoon had bent up a soffit. Then they sprayed something that the animals don't like (not a poison, just a smell that deters them) and left that alone overnight to make sure they were all out. The next day they repaired the hole. So far so good!
Also they were very polite and didn't make a mess in the house when going into the attic. Very appreciated!
Company Response

Hello Veronica, Thank you for your close observations and comments on services we performed. You were obviously very observant to our description throughout the process. One area I will review with our team to be more clear, the 'spray' is actually an industrial deodorant for masking the animals scent, which also plays a role in temporarily deterring the raccoons. Thanks again. Randy Celinski, President, Awarded Best Of HomeStars 2018, 2017, 2016