Moving & Storage review in Toronto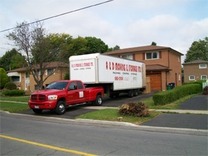 A & D Movers
416-690-2100
Village station rd.
Toronto
ON
M4H 1N1
CANADA
Shane, Mason, Jason, and Armindo were very helpful (apologies if any name is misspelt). The move from Etobicoke to downtown Toronto was completed within 6 hours. At first I thought it would go faster, but I realized they were being very careful with both my items and the building's elevators, and I wouldn't have it any other way.
A very patient team and equipped with complementary plastic wrap wardrobe boxes, and furniture pads. I didn't have a mattress cover, so they purchased one for me (only added $11 to the bill)
Very glad they don't charge for travel time outside of the actual move like some companies. Especially in the winter, that travel time can balloon out!
One piece of constructive criticism: Would appreciate speedier responses via email (as in within 24 hours), and a more formal invoice/quote format outlining insurance coverage, rates, service details, etc. There were some times I needed to call to follow up on an email after waiting a few days for a response. It's not a reflection of the service that was ultimately provided (which was excellent!), and I understand it's a family biz and they may not have the staff to be dedicated to emails and calls... but it would have greatly eased my mind both as a first time customer, and as someone organizing the move solo.
Company Response

I want to thank you for taking the time to review our services. The guys are always encouraged to be respectful of the clients belongings as well as their homes. Old and new. We do our best to give each client a smooth and efficient move. I take full responsibility for the 8 rating. Sometimes I get tied up on moves and cannot respond with the quickness people deserve. Other times I am just pooped out and run out of energy not an excuse just a reality. Thank you for bringing it to my attention.
Thank you for your business and all the best in 2017'.Shane and crew's.