Moving & Storage review in Toronto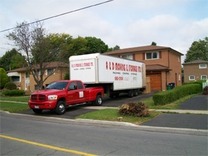 A & D Movers
416-690-2100
Village station rd.
Toronto
ON
M4H 1N1
CANADA
I was in desperate need of a mover on short notice for my brother, who has a neurological developmental disability. He was accepted into an assisted living residence in Cambridge. Residences with the support he needs are difficult to find, so I did not want to lose the opportunity.
Finding a mover for a Saturday with nine days notice is not easy. I was struggling on my own. I was referred to Shane at A&D Movers by my real estate agent, Bryen Daly. Bryen has heard reviews from homeowners about dozens of moving companies. The feedback on A&D has been consistently excellent. They are his top referral. Bryen has moved with Shane as well.
Shane reached out to me and I explained the situation. He found a way to accommodate my move. Jimmy and Mason showed up exactly on time, and were amazing to work with. The way they wrapped and protected my brother's belongings was like they were protecting their own items. The care with which they packed and moved everything meant so much to me.
They were professional, efficient, conscientious, polite, thoughtful and kind. My brother was moving from a retirement residence. Mason and Jimmy were directed to use the main door. On several trips out and back from the truck, they needed to wait for an elderly resident to slowly maneuver with a walker or cane between the internal and external door. Not once were they impatient, or even showed the slightest bit of annoyance. They were wonderfully understanding with the other residents.
At my brother's new residence, a victorian home, after carrying the sofa up a flight of steep stairs, it was determined that it would not fit through one of the doorways. They would have to bring it back down, and through a different set of stairs and staircase.
This was near the end of the move, approximately five hours into the day. I would not have faulted either of them should they have been a little frustrated with the sudden discovery. However this was not the case. They were totally understanding and patient about the change. They said it was there pleasure to take it up the different set of stairs. They were happy to help. They even helped my brother and I sort out the placement of a few of the items.
I sincerely had an amazing experience with A&D Movers. I'm very appreciative. My brother's belongings were in the best care. Jimmy and Mason displayed kindness and understanding towards not only us, but towards all people they came into contact with at both residences.
I wholeheartedly recommend A&D Movers. I will definitely call Shane for my next move.
Company Response

Wow! I want to thank you very very much for that amazing review. We do take pride in our work and do strive to go out of our way for the customer. I'am so happy we could accomodate you last minute. We want to wish you and your brother all the best in the future. If any assistance or advice needed about moving please do not hesitate. Thank you for the kind words and the generosity shown to my crew. All the best Shane and crew.