Let us find you the best-rated contractors.
Plan your project with HomeStars to find the best-suited local contractor for your needs.

Start Your Project Now or Learn More
Avoid the Worst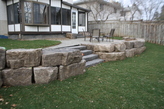 Large Retaining Walls (Armour Rocks)

We contracted Gardens of Distinction based on their design, price and a recommendation from a friend. They deliver exactly what we wanted. The work involved a complete re-grading of the backyard with retaining walls (armour rocks and timber wall)a...

Rene Abel in Mississauga 2 Oct 05, 2011
Winning Category: Pest & Animal Control
Rapid Pest control is service with a heart. Imran not only is there to help you get rid of all your pest problems, he is caring understanding and very knowledgable. He takes care of all your pest p...
Nov 20, 2013
Looking for more video on HomeStars?
Click Here